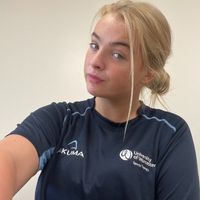 About Abbie Jane M
Abbie completed her Sports and Exercise Sciences course in 2021 and went on to a full-time Sports Therapy course at the University of Worcester.
She told us, "Dudley College was A good challenge, helpful, and encouraging. I particularly valued the encouragement you had from your lecturers. It opened up many opportunities for me.
"I loved my course because I have been interested in sport from a young age and this suited me from day 1.
It was very anatomy based which I found interesting and it helped me gain a good foundation of knowledge for when I started my sports therapy course.
"I have a lot of fond memories of college – the bonds that we had with the lecturers, being treated like an adult instead of children, always laughing but also getting work done, and playing in the netball team every week."