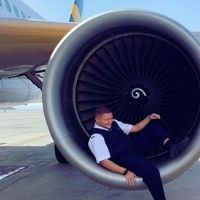 Subject:
Travel and Tourism
"College gave me the confidence, the necessary knowledge and the skills for going into an industry where you learn something new everyday!"
About Anthony P.
Anthony studied Travel and Tourism Level three and went on to join British Airways' Cabin Crew.
He told us, "I left college in 2015 and worked as a passenger services agent at Birmingham airport. In 2016 I joined Thomas Cook Airlines until the collapse in 2019 as Cabin Crew flying internationally, short haul and long haul. 2020 I joined as a travel consultant at Hays Travel. In 2020 will be joining mixed fleet Cabin Crew with British Airways based at London Heathrow.
"My career highlight so far was gaining my first set of wings – and my goal is to become a Cabin Manager with British Airways (hopefully in the next 5 years).
What words of advice would you give to others hoping to work in your industry? "Be hungry for success, when one door closes, another door will open. Be a team player and learn to work well as a team. Want to progress and never be afraid to share ideas. Time keeping is crucial."
1122k