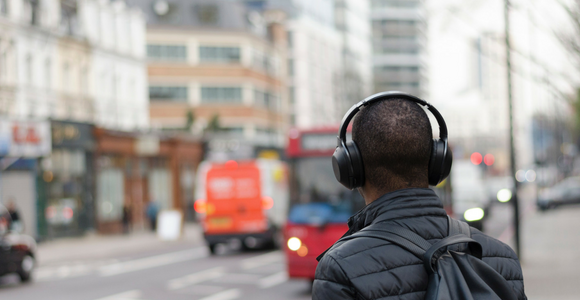 The average Briton spends nearly 2 hours commuting to and from work every day.
What's more, a study has shown that the longer a person's journey is to work, the lower their job satisfaction. The research by the University of the West of England found that "a 20 minute increase in commute time is as bad as a 19 per cent pay cut," and can cause seriously adverse effects on mental wellbeing.
So what can we do about it?
We're not all lucky enough to have the luxury of being able to work from home or reduce our commute time. What we can do is ensure that we're not wasting those lost 2 hours of commute time every day and use it to proactively work on our career development and job prospects.
Here are some of our favourite podcasts to listen to on the daily commute that offer great career-boosting tips and motivation. If you're feeling particularly ambitious try listening at x1.5 speed to pack in even more inspiration on your commute.
Tribe of Mentors by Tim Ferriss
Tim Ferriss is the author of four Number 1 best-selling bestselling self-help books, an entrepreneur, a tech investor and a public speaker. He has created a podcast that collects life advice from some of the most successful people in the world.  Each episode is around 10-30 minutes. Ferriss interviews people about their habits, routines and philosophies that you can apply to your career. Mentors are a brilliant way to advance in your career or your life in general – this way you can be mentored by some of the best in their fields, all during your commute! Arrive at work feeling inspired to tackle the workday – or at home ready to tackle those job applications. Guests include:
Venture Capitalist and co-founder of Behance, Scott Belsky,
Tim Urban, who's TED Talk 'Inside the Mind of a Master Procrastinator' has received over 21million views,
Ex British Special Forces, survivalist and TV Presenter Bear Grylls,
And 'Fittest Woman on Earth,' Crossfit Athlete Katrin Davíðsdóttir.
Being Boss with Emily Thompson and Kathleen Shannon
A podcast aimed at creative entrepreneurs, freelancers and "side-hustlers," Being Boss offers inspiration and tips for anyone wanting to quit their day-job, or have already done so. Kathleen and Emily are both successful businesswomen and their podcast now has over 3million downloads and hundreds of episodes. Topics include productivity, business strategy, setting boundaries, marketing, habits and routines. The duo have interviewed some incredible guests, including CEOS, news presenters, fitness celebrities, bestselling authors, marketing gurus, real estate investors, professors, TED Talkers, philanthropists and more. The podcast has a lot of humour and some great 'minisodes' on subjects like asking for help, getting a book deal, client management, communicating price increases, expanding your brand and using social media.
This podcast tells the stories of people who have built incredible things, from entrepreneurs who have built extremely successful businesses, to real estate moguls and iconic designers. The host, Guy Raz, a journalist, former war correspondent, NPR Radio Host and creator of TED Radio Hour, has interviewed a seriously impressive list of names. Guests include:
Chop Wilson, founder of multimillion athletic clothing company, Lululemon Athletica,
Wikipedia founder Jimmy Wales,
James Dyson, of Dyson,
Michael Dell of Dell Computers
 Serial entrepreneur, Marcia Kilgore who has founded brands such as Soap & Glory, FitFlop and more,
Co-founder of LinkedIn, Reid Hoffman,
Ben Cohen and Jerry Greenfield (Ben & Jerry)
The founders of Instagram, Kevin Systrom and Mike Krieger, the man behind Starbucks Howard Schultz
And Airbnb founder, Joe Gebbla.
The episodes make for seriously inspiring commute-time listening, as these innovators talk through their journeys, the hurdles they overcame and share their secrets to success.
Happy commuting!